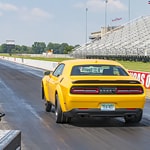 There's no question that the Dodge Challenger is fast and fun to drive. At Westfield Dodge City Inc, we're often asked about this car's fuel efficiency. Since there are a few different engines, the answer depends on the exact configuration of the car. Below, we've included some numbers that we hope are helpful to prospective customers.
The base engine is a 3.6-liter V6. With this engine, the car can earn up to 30 miles per gallon on the highway. Estimated fuel economy when driving on city streets is 19 miles per gallon.
If you love the feeling of acceleration and want to push your limits, consider getting a Challenger with a 5.7-liter V8 or 6.2-liter V8 engine. The 5.7L can earn an estimated 23 miles per gallon on the highway and 15 miles per gallon in the city. With the larger engine, numbers drop slightly to 22 (highway) and 13 (city) miles per gallon.